Sustainable Days Poster Competition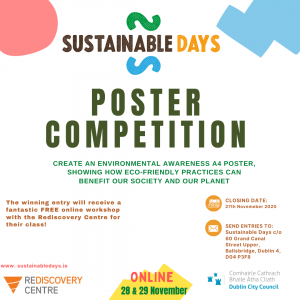 Sustainable Days is inviting primary school students across Ireland to tap into their creativity and submit an environmental awareness poster, showing how eco-friendly practices can benefit our society and our planet.
The winning entry will receive a fantastic FREE online workshop with the Rediscovery Centre for their class! Rediscovery Centre primary education workshops are 90 minutes in duration and link to the primary school curriculum through a range of subjects including Science, Maths, SPHE, Visual Art and Geography. Each workshop features a presentation, a range of interactive activities and/or games and ends with a feedback session to encourage the students to share what they have learned throughout the workshop.
Competition Poster Themes
"Clean Marine" – focusing on keeping our beaches and oceans free of litter that could harm sea life.
"Everyday Energy Heroes" – focusing on the small ways that we can reduce our energy usage in a way that benefits our environment.
"Waste Warriors" – focusing on recycling and steps we can take to reduce the non-recyclable waste that we produce.
Send your entry via post to
Sustainable Days, c/o 60 Grand Canal Street Upper, Ballsbridge, Dublin 4, D04 P3F8 with the following information included:
Full name
Age
School & class level
Teacher name
Contact email address
Contact phone number
CLOSING DATE FOR SUBMISSIONS 5.30pm FRIDAY 27 NOVEMBER 2020
WINNERS ANNOUNCED TUESDAY 2 DECEMBER
Find Out More About Sustainable Days